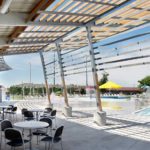 OPENING DAY (2016) – Saturday, May 28th
Cold Weather
In the event of cold weather, air temperature AND water temperature MUST be above 70 degrees in order to open.
Regular Season Hours 
Monday – Friday – 1:00 pm to 5:00 pm, 6:00pm to 8:00pm
Saturday & Sunday – 1:00 pm to 7:00 pm
*Adult Swim & Water Aerobics will be held from 5:00pm to 6:00pm on specific days of the week. Check back later to see what days they will be held on.