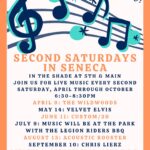 Join on the Second Saturdays April – October for Live Music here in Seneca!
Second Saturdays in Seneca join us in the shade at 5th & Main for live music every second Saturday, April through October. 6:30-8:30pm
April 9: The Wildwoods (a bluegrass & folk duo)
May 14: Velvet Elvis (3 piece classic rock band)
June 11: Custom/20 (outlaw country and a mixture of other tunes)
July 9: Music will be at the park with the Legion riders BBQ, all day – multiple bands!
August 13: Acoustic Rooster (wide variety)
September 10: Chris Lierz (country, wide variety)
October 8: Oktoberfest- The Czechlanders at Oktoberfest (4-7pm)